Preventive and Diagnostic
---
---
---
An oral examination is a visual inspection of the mouth, head, and neck, performed to detect abnormalities.  Radiographs allow for a more complete examination, helping the doctor to detect cavities, problems in existing dental restorations, gum and bone recession or other abnormal conditions within the mouth, head and neck area.
A dental cleaning, also known as an oral prophylaxis, is the removal of dental plaque and tartar (calculus) from the teeth. Specialized instruments are used to gently remove these deposits without harming the teeth. First, an ultrasonic device that emits vibrations and is cooled by water is used to loosen larger pieces of tartar. Next, hand tools are used to manually remove smaller deposits and smooth the tooth surfaces. Once all the tooth surfaces have been cleaned of tartar and plaque, the teeth are polished.
Many sports require athletes to use a Mouth Guard to protect their teeth while practicing and playing. Frequently used in contact sports, the mouth guard covers the gums and teeth to provide protection for lips, gums, teeth and arches. A properly fitted mouth guard can reduce the severity of dental injuries.
Pre-formed, ready-to-wear mouth guards can be purchased inexpensively at many sporting stores, but they do not always fit well. They can be uncomfortable and interfere with talking and even breathing.
Sporting goods stores also offer semi-custom mouth guards, in which the plastic is heated and then the athlete bites on it while still warm to provide some level of custom fit.
Your dentist can make a custom mouth guard by taking an impression of your teeth and then creating a device fitted to your mouth for the highest level of both comfort and protection. A custom fitted mouthguard can be particularly important for athletes who wear braces.
Be sure to bring your mouthguard to your dental appointments so your doctor can be sure it still fits you well.
---
Restorative Dentistry
---
---
---
---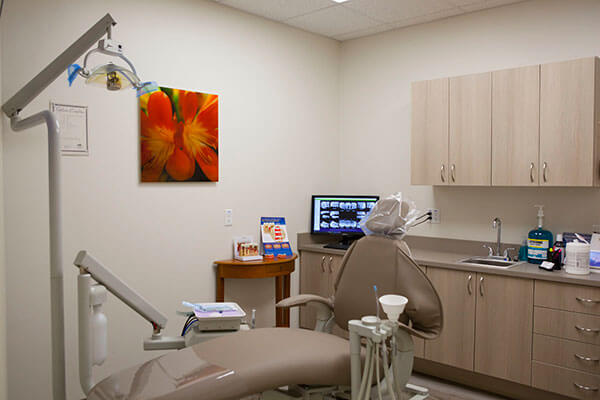 ---
Cosmetic Dentistry
---
---
---
Whitening, also known as bleaching, is the procedure used to brighten teeth. There are two different ways to achieve a desired whiter smile, In-Office Bleaching and At-Home Bleaching.
In-Office Bleaching usually requires only one office visit. A protective gel or a rubber shield is placed over the gums to protect the soft tissue. A bleaching agent containing carbamide peroxide is applied to the teeth, and a laser light is then used to enhance the action of the whitening agent .
At-Home bleaching requires an impression of the teeth to be taken to make a customized mouth guard to hold the whitening gel, containing carbide peroxide, against the teeth. Once the mouth guard is made, it is worn for a period of time, as instructed by our office. The amount of time may vary from a couple hours a day, or all night, for up to four weeks or longer, if desired.

Invisalign® takes a modern approach to straightening teeth, using a custom-made series of aligners created for you and only you. These aligner trays are made of smooth, comfortable and virtually invisible plastic that you wear over your teeth. Wearing the aligners will gradually and gently shift your teeth into place, based on the exact movements your dentist or orthodontist plans out for you. There are no metal brackets to attach and no wires to tighten. You just pop in a new set of aligners approximately every two weeks, until your treatment is complete. You'll achieve a great smile with little interference in your daily life. The best part about the whole process is that most people won't even know that you're straightening your teeth.
Porcelain veneers are thin pieces of porcelain used to recreate the natural look of teeth. To place a veneer, a very small amount of the original tooth enamel must be removed. Afterwards, an adhesive layer is placed between the slightly prepped tooth and the veneer. The veneer is then hardened with a curing light.
---
Oral Surgery
---
---
---
---
Additional Services
---
---
---
Scaling and root planing is a non-surgical procedure used to treat gum disease. During the scaling process, specialized dental instruments are used to remove dental plaque and calculus from beneath the gums. Planing is the procedure used to smooth the tooth's root after the scaling process. Root planing helps the gums heal and reattach themselves to a cleaner and smoother root surface.
Nitrous oxide, sometimes referred to as "laughing gas," is an effective and safe sedation agent that is inhaled through a mask that fits over your nose to help you relax. Mixed with oxygen, Nitrous oxide allows you to breathe normally through your nose and within minutes you should start to feel the effects. You may feel light-headed or a tingling in your arms and legs. Some patient's comment that their legs and arms feel heavy. Ultimately, you should feel comfortable and calm. The effects of nitrous oxide wear off quickly after the small mask is removed. Talk to the doctor about whether nitrous oxide would be a good option for you.
---
860-783-5820

Call our office today!
---